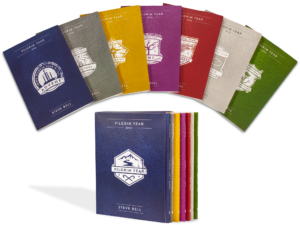 Take a prayerful journey through the Christian calendar year with Steve Bell's new book series. The seven-book series includes devotional reflections on the seasons of Advent, Christmas, Epiphany, Lent, Holy Week, Easter and Ordinarytime. Drawing on poetry, music, history and tradition, Steve's unique reflections animate a rich spiritual tradition for the seasoned and the novice alike.
Steve Bell is a Canadian Christian singer/songwriter, Juno Award winner, and modern-day troubadour whose vocal style, rootsy guitar riffs and storytelling prowess have won him concerts the world over.
Published by Novalis Press, the collection of books features written reflections on the liturgical year, accompanied by links to the music of this iconic Canadian Christian singer and songwriter.
"Listening to Steve Bell in concert, you sense his tremendous gift for story-telling," says Simon Appolloni, Associate Publishing Director of Novalis Publishing. "When you match that with his brilliant musicianship, and his deep faith in a God that loves and cares for justice, it was a no-brainer to approach Steve Bell when he mused to his fans that he was planning to do some writing."
"What motivated you to write this collection?"
I grew up in a Christian tradition that was largely suspicious of the liturgical and traditional. And yet, an adult deepening of my own faith has come precicely as I've discovered and attended to the rooted wisdom/knowledge of the past lovingly embedded in these rich traditions.
I also know that for those who grew up in these traditions, the "veil of familiarity" has stripped many of spiritual vitality. I wanted to write in a manner that would refresh the weary, and incline the wary to a heritage that is evergreen and fruitful; one that rises above tides and trends, and which fortifies God's people to be a gift both to and for the world he so loves.
"What do you hope readers will take from it/experience through it?"
I hope readers will regain a deep confidence in "the story" that we have been charged to tend and keep for the sake of the world. We have woefully come to trust in our isms and ideologies instead, and have ended up often only adding to the already clamorous noise that sends people retreating back into their fortresses in order to entrench and defend rather than venturing out to welcome and embrace.
"How does the liturgical calendar help you as a Christian?"
The liturgical calendar is a common structure for the faithful to annually rehearse and reharrow the the grand narrative of the Gospel as it unfolds sequentially through the various seasons of Advent, Christmas, Epiphany, Lent, Holy Week, Easter and Ordinarytime. Reverently attended to, it fasions our being-in-communion and unites the body of Christ across time and space in a manner that generates and sustains hope for the Kingdom-come.
What People are Saying
Steve Bell's wonderful Pilgrim Year series calls us to a deeper and more intimate walk of faith using the Christian Church calendar as our guide. Rich with creativity, Bell weaves together in word and song, images and messages that pierce our hearts and speak meaning into the everydayness of our existence. We are reminded that we are part of something so big and vast and wonderful – God's story. This series is a treasure!
— Karen Pascal
Executive Director, Henri Nouwen Society & Legacy Trust
In an age of rapid trending and instant gratification, our souls long for the sustenance that comes from deep reaching roots. In "Pilgrim Year", as Steve Bell brings wisdom, poetry, and song into the rhythms and traditions of the church year, we're invited into just such a source. Whether for personal reflection or for use in a wider community, this rich resource will feed the soul all year round.
— Jamie Arpin-Ricci
Author of Vulnerable Faith: Missional Living in the Radical Way of St. Patrick.
Through the rhythms of life and seasons of faith come maturity. Steve Bell is a Canadian sage whose wisdom and heart for the Beautiful have come to full flower in The Pilgrim Year. This seven-volume boxset is a treasury of gripping reflections, poetry and lyrics that guides spiritual pilgrims through the stages and mysteries of the church year (with accompanying music available online). This is the most winsome newcomers' intro I've seen to the church calendar, just as it is a refreshing breeze for veteran travellers of the Way. Steve pours character and excellence into whatever he produces–he's motivated by a genuine desire to facilitate encounters with the living God. Bell is a trustworthy travel guide because at every switchback and waypoint of The Pilgrim Year, he encourages us to follow the faithful Shepherd "further up and further into the kingdom of God.
— Brad Jersak
Author of A More Christlike God, Monastery
Preacher at All Saints of North America Monastery, Dewdney