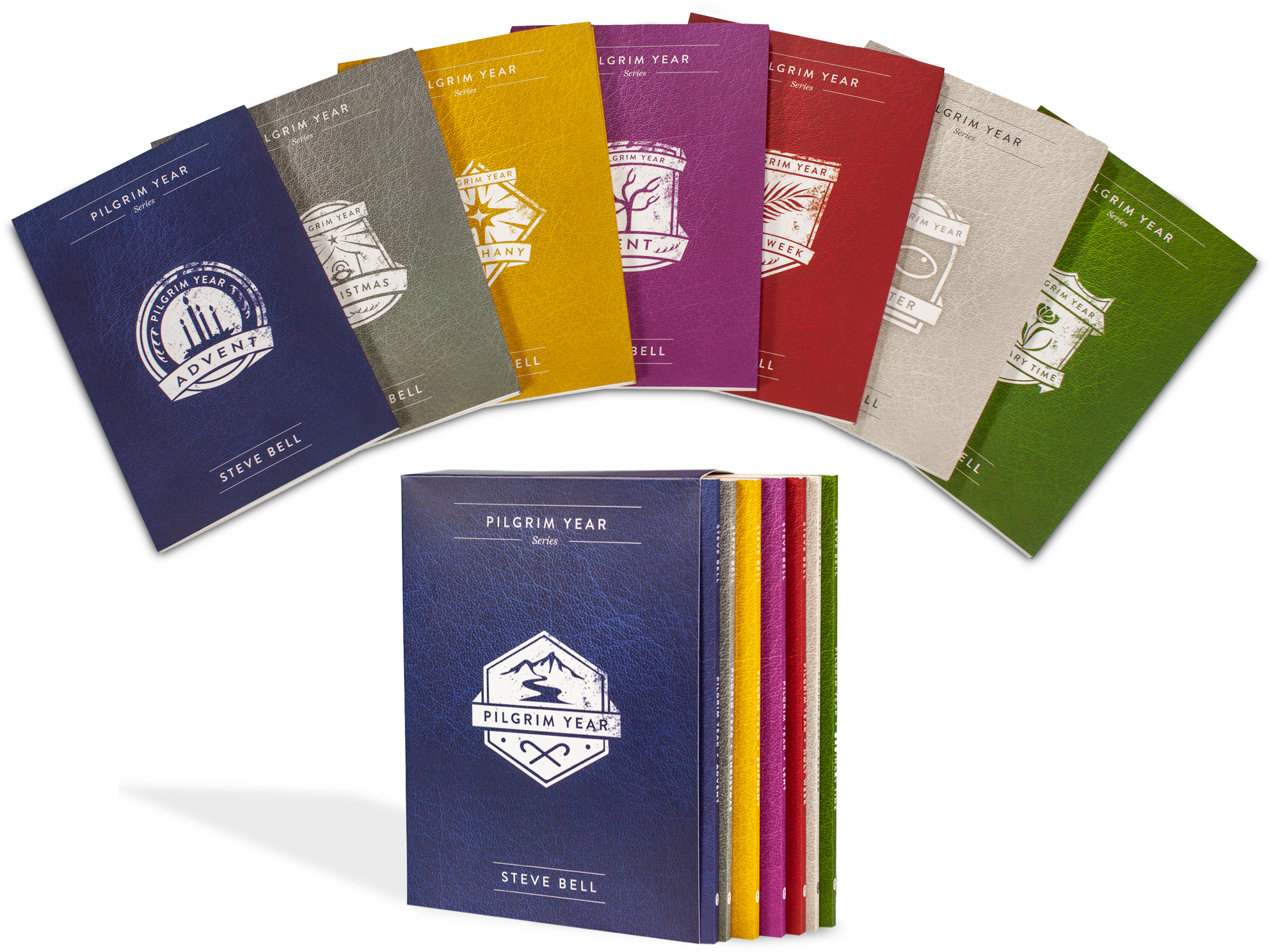 Pilgrim Year Book Series
Journey through the Christian Year with writer and musician Steve Bell
Take a prayerful journey through the Christian calendar year with Steve Bell's new book series. The seven-book series includes devotional reflections on the seasons of Advent, Christmas, Epiphany, Lent, Holy Week, Easter and Ordinarytime. Drawing on poetry, music, history and tradition, Steve's unique reflections animate a rich spiritual tradition for the seasoned and the novice alike.
Buy books individually ($9.99)
Add two-disc companion CD ($24.99)
Pilgrim Year Books
Click the button below to go to SteveBell.com to buy the books.
Pilgrim Year Resources
Listen to the songs and watch the videos from each book.
There's a freshness to Steve's insights into the church calendar and saints days that can be a balm for anyone grown tired of what can seem like "the annual liturgical grind." Bell gives us plenty to chew on: history, poetry, songs, and spiritual reflection by him and other writers, both contemporary and traditional, from Hildegard of Bingen to John of the Cross.  Throughout these booklets Bell expresses profound truths in simple language. Readers - and listeners - who engage with these writings and songs will find much to guide them on their spiritual journeys through the great church year.
—Kathleen Norris, celebrated poet and essayist, Benedictine oblate
There are few things more rewarding than a long spiritual discipline of commitment and understanding. The Church's liturgical year offers a remarkable depth for those who are willing to enter in and truly ponder each season's meaning. Even better is to have a guide like Steve Bell in the process. By taking his love of story, his poetic brilliance, and his theological depth, he has created something that is indispensable. Pilgrim Year will be affecting sojourners for decades to come. This man can write! He can sing. He can play. But most of all, he can speak to another's heart. And that may be the most priceless gift of all.
—Matt Baugher, Sr Vice President, HarperCollins Publishers